Wondering where to purchase Huawei WIFI WS318n online in Nairobi or elsewhere in Kenya?
At NeoTech ICT Solutions, we stock a wide range of routers including Huawei WIFI WS318n Router at unbeatable prices in Nairobi, kenya.
About this item
Optimization 2.4GHz WiFi band: HUAWEI WS318n router connects your device to Wi-Fi the channel with the strongest signal, avoiding the network congestion and providing high rate for you

Two 5dBi antennas: Wireless signal in different positions of your place is precisely calculated and reasonably distributed, covering larger areas and streaming to more devices simultaneously

Through-wall speed : Innovative LDPC algorithm improve through-wall speed

HiLink App :Easily access and manage the router on your iOS and Android devices
What should I consider when installing my Huawei WIFI WS318n router?
Install your router in a stable, well-ventilated environment away from direct sunlight or other strong sources of light. If you will be using your router for Wi-Fi connections, consider the following when selecting your installation position. This will help optimize your router's Wi-Fi functionality:
Minimize obstructions between your huawei wifi router and your computer or other devices. Obstructions such as walls between your router and device can affect Wi-Fi signal quality.
Ensure your router, computer, and other devices are kept away from appliances with strong magnetic or electrical fields, such as microwave ovens.
Install your Huawei WIFI WS318n router in a central position in your home, such as your living room.
Choose an installation position suited to your router's form. If your router has an antenna, it should be installed in a position where the antenna can be fully extended for optimum signal.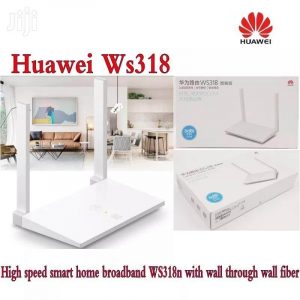 Key Huawei WIFI WS318n Features
Data Transfer Rate: 300 Megabits Per Second
Optimization 2.4GHz WiFi band: Huawei WIFI WS318n router connects your device to Wi-Fi the channel with the strongest signal, avoiding the network congestion and providing high rate for you
Through-wall speed : Innovative LDPC algorithm improve through-wall speed
Two 5dBi antennas: Wireless signal in different positions of your place is precisely calculated and reasonably distributed, covering larger areas and streaming to more devices simultaneously
HiLink App :Helps you access and manage the huawei wifi router on your iOS and Android device
Parental Control: Keep a check on usage and track every activity of your kid easily
Huawei WIFI review
Huawei WIFI specs
| | |
| --- | --- |
| Brand | HUAWEI |
| Product Dimensions | 6 x 27 x 15.8 cm; 440 Grams |
| Item model number | 2724630343594 |
| Manufacturer | Huawei |
| Connectivity Type | Wi-Fi |
| Number of Ethernet Ports | 2 |
| Item Weight | 440 g |